6 years ago today we held our daughter, Ava Therese FuBin Farmer, for the very first time.  You can click here to watch a moving short video of the journey.  Below is something I wrote while in China in the midst of that journey about Ava and her special intercessor:
Ava means "little bird" in Latin.  We thought it was a pretty name and a beautiful symbol for our little girl.  (OK, so Joia was the thoughtful one who picked the name out… but I agreed with her.)  Several months after naming her, I was rereading Story of A Soul: The Autobiography of St. Therese of Lisieux, and was struck by how beautiful and how appropriate to our situation the passages below were.  Since that time, St. Therese has become a very special patron and intercessor for our own "little bird", making her prayers very clear to our family (but that's another story).  [Just as we pray for one another, those Saints who have gone before us still intercede on our behalf.  We don't worship them or pray to them, but we do know they are powerful prayer partners.  For an understanding of the intercession of Saints, visit www.catholic-forum.com/saints/patron03.htm.]  Enjoy these excerpts and please continue to pray for Ava.  St. Therese of Lisieux, pray for us.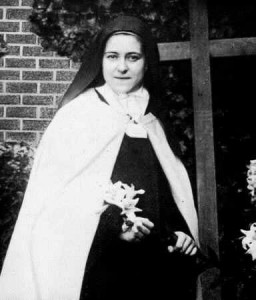 Story of A Soul: The Autobiography of St. Therese of Lisieux
(ICS Publications, Washington, DC, Third Edition)
p.198-200
I look upon myself as a weak little bird, with only a light down as covering.  I am not an eagle, but I have an eagle's EYES AND HEART.  In spite of my extreme littleness I still dare to gaze upon the Divine Sun, the Sun of Love, and my heart feels within it all the aspirations of an Eagle.
The little bird wills to fly toward the bright Sun that attracts its eye, imitating its brothers, the eagles, whom it sees climbing toward the Divine Furnace of the Holy Trinity.  But alas! the only thing it can do is raise its little wings; to fly is not within its little power!
What then will become of it?  Will it die of sorrow at seeing itself so weak?  Oh no! the little bird will not even be troubled.  With bold surrender, it wishes to remain gazing upon its Divine Sun.  Nothing will frighten it, neither wind nor rain, and if dark clouds come and hide the Star of Love, the little bird will not change its place because it knows that beyond the clouds its bright Sun still shines on and that its brightness is not eclipsed for a single instant…
O Jesus, Your little bird is happy to be weak and little… It calls upon the angels and saints who rise like eagles before the consuming Fire, and since this is the object of the little bird's desire the eagles take pity on it, protecting and defending it, and putting to flight at the same time the vultures who want to devour it…
As long as You desire it, O my Beloved, Your little bird will remain without strength and without wings and will always stay with its gaze fixed upon You.  It wants to be fascinated by Your divine glance… On day I hope that You, the Adorable Eagle, will come to fetch me, Your little bird…